Merrybet is one of the newest additions to sports betting websites in Nigeria and since coming into the scene, has provided a competitive alternative for sports betting fans.
This sportsbook is also available on a wide range of mobile devices, through its Merrybet mobile platform.
Who owns Merrybet?
It was founded in 2012 by Opeoluwa Fashakin who is the CEO of Merrybet Gold Limited. The company has its headquarters in Lagos, Nigeria, at Suite C 107/108, Ikota Shopping Complex, Lekki-Ajah Expressway.
It also has offices dotted across the entire country for easy access to customers.
This sports betting organization is sanctioned by the law as it is regulated by the Lagos State Lotteries Board. As such, Nigerian customers have an added layer of security when putting their money in Merrybet.
With Merrybet It's The More, The Merrier
More than 20 different Sports

Major European Leagues like Premier League

e-Sports available

Cashout available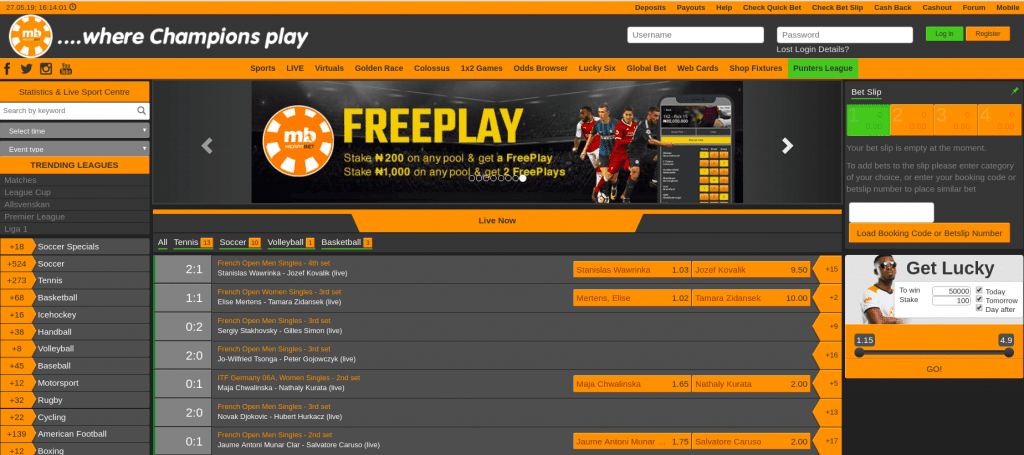 On Merrybet, you have a list of about 20 sports to place your wager. Some of the main ones are soccer (football), handball, hockey, tennis, American football, baseball, snooker, boxing, winter sports, volleyball, rugby, motorsports, golf, cycling, cricket, ski jumping and pesapallo – and many more.
That is by itself a wide variety of sports to bet on. However you can even go further than that and bet on e-Sports – games like Counter-Strike, FIFA, League of Legends and many others.
Regarding competitions, you'll find everything you need, including all the great soccer, basketball and tennis competitions.
You can place your bets for matches in the major European soccer leagues like the Premier League, Spanish La Liga, Italian Serie A, French Ligue 1, German Bundesliga.
That's aside leagues in other parts of Europe, the Chinese League, international competitions (Champions League, Europa League) among others.
Merrybet offers good odds for sports betting. They may not be the best but as you will see, this sportsbook makes up for it in other areas.
Sports betting options
You will note that when placing bets on Merrybet, you are presented with two options.
You can either choose to "Book-A-Bet" or to "Place Bet". Which should you choose? Let's see:
Book-A-Bet: this option generates a "Booking Code" that you can then use to finish your bet at any Merrybet betting shop or online using the "Load Booking Code or Betslip Number" feature;
Place Bet: by far the simplest option, simply place your bet online and you're done – in order to do this, you need to have an account created on Merrybet's website.
Cashout is available!
To many punters' delight, they can access the cashout feature on Merrybet in one of two ways: partial cashout and full cashout.

This feature is amazing because it can be used to close your bets earlier. As such, you can opt to lock some profits or cut losses if you feel that is the best course of action.
---
Merrybet Bonus and Promotions 💸
Accumulator Bonus

Cashback available

Big prizes up to N80,000,000

No Welcome Bonus
Unfortunately, unlike many betting sites, Merrybet does not offer the traditional sign up bonus for customers who open an account.
But don't get whiny just yet. We'll show you how to make the most of your betting on this sportsbook!
Accumulator Bonus
Merrybet gives you a bonus of up to 17% for your winnings. This, however, is only possible when you placed an accumulator bet with 5 or more games.
Merrybet CashBack Promo Codes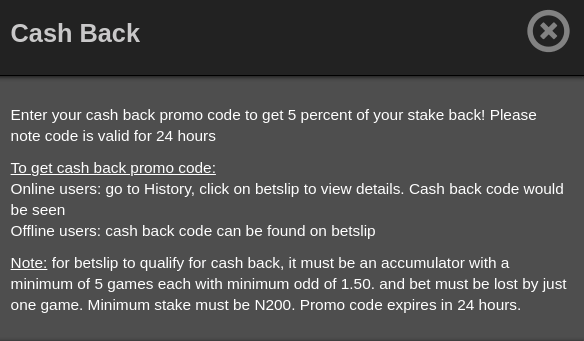 But in spite of that, you can actually get promo codes, which usually lasts for 24 hours, from time-to-time as well as cashback on failed bets.
These Cash Back promo codes, when available, can be found on your profile "History" or on your physical betslip (in case you bet offline).
Should you find you have earned on of these promo codes, you'll be able to get back a 5% reimbursement of any bet you make and lose – as long as the odds of that bet are at least 1.50!
Other big prizes – up to N80,000,000!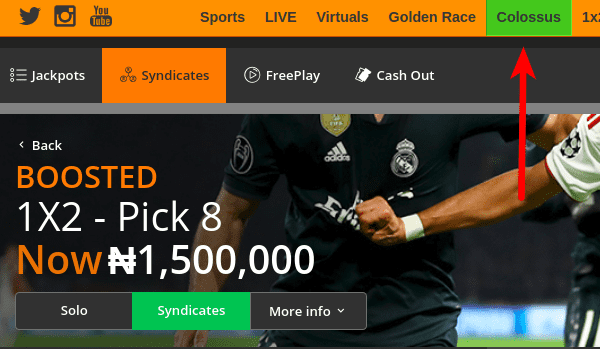 Merrybet goes beyond the traditional ways of sports betting.
Under the "Colossus" tab you will encounter the possibility of playing the Syndicate Game. With that comes the chance of scoring some big, big prizes (up to N80 million).
"But what is a Syndicate Game?" – you may ask.
According to Merrybet's website, a Syndicate is a ticket where you join forces with other players. The Captain makes the selections and controls Cash Out decisions on the ticket. You can be a Captain or join another Captain's Syndicate.
Winnings are shared amongst contributors in proportion to their contributions.
So let's try to get to the bottom of that.
In essence, this is a form of pool betting.
The advantages of that include:
Guaranteed jackpot prizes: available to winners regardless of the total amount of player contributions into the pools
Consolation prizes: for those who closely miss winning the Big Jackpot prizes
Cash Out offers: allowing players to sell all or part of their tickets back to Colossus and lock in a profit regardless of the outcome in the remaining legs in the pool
This Syndicate game will be controlled by a captain, who predicts upcoming matches.
Afterward, a single big-ticket is created for several outcomes. The captain must fund the initial 10% of the overall cost of the ticket.
You will then have to stake your money in the pool, in order to get a cut of the prize pot.
If you want to join a syndicate game, you can either:
become a captain and then create your ticket for others to join in;
or you can join another captain's ticket just by funding part of the pool.
However, note that as a captain you have the option of cashing out before the end of the games, and thus be able to make a profit for all members of the syndicate even if the games aren't over!
Sounds fun right?

Prizes up to N80,000,000
Win Accumulator bets, Cashback and Big Prizes!
---
Merrybet Mobile 📲
Website works on new and old mobiles

No Mobile app
You can easily navigate through Merrybet mobile platform, regardless of the device you are in.
Their website is prepared to receive visitors from all sorts of mobile devices.
All you need to do is access their website from your mobile phone (regardless of how sophisticated your device is) and choose the option that better suits you: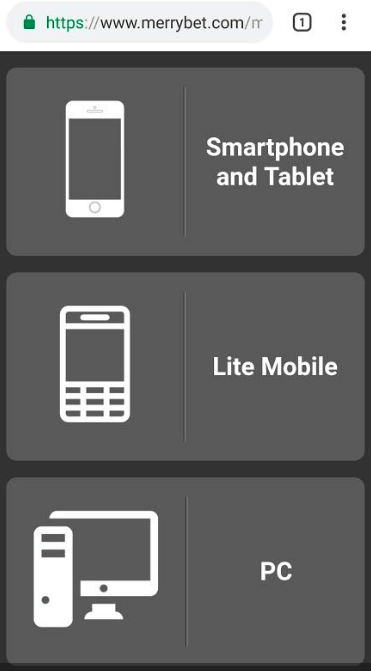 As you may have guessed, none of these options correspond to a dedicated app.
However, you should have no problem accessing Merrybet mobile features, as long as you choose the platform that fits your mobile device.
---
Live Stream – Watch live games in Merrybet 📺
So you like to watch live games as you place your live bets?
Merrybet gives you the option of placing bets on ongoing matches as well as watch some of those games directly on your computer or mobile device.
How?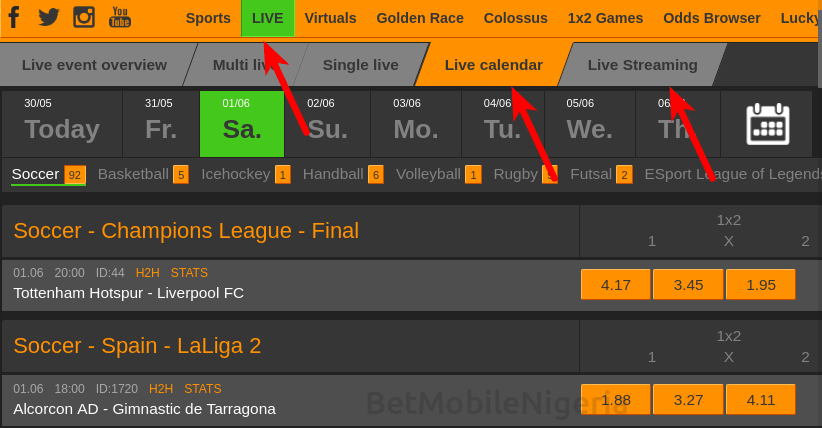 The live betting features sports like soccer, tennis, and basketball among others.
Regarding Live Stream, you will find a number of games in sports like soccer, volleyball, tennis, rugby, handball, futsal and others
For soccer, it normally live streams games in the Chinese Super League, Russian league, Italian Serie A, Serbian League.
All you need to do is sign up for an account in Merrybet – which we'll show you how to do just now.
Merrybet Sign Up
To register your account on Merrybet, follow these simple steps:
1. Visit www.merrybet.com
2. Select your Username and Password, then click on the Register button at the top right of the page

3. Type in your details and click Submit
4. Open your e-mail to see the confirmation message from Merrybet
5. Click on the link in the email sent to you to Login to your dashboard with your username and password
Having done this your account will be fully ready for you to start betting.
---
Payments – Deposits and Withdrawals 💳
Over 9 deposit methods

Minimum amount is N50

Maximum payout is N1,000,000
With Merrybet, you'll find a variety of options to choose from when it comes to deposits and withdrawals.
Once you have opened your Merrybet account, here are some of the ways you can fund it: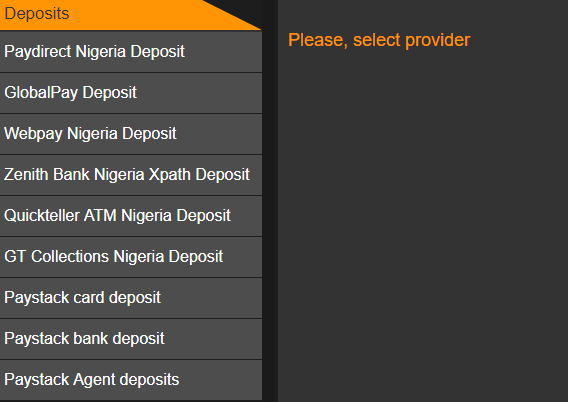 The minimum bet you can make into your Merrybet account is N50 while the maximum is hinged on the market that you've selected.
Merrybet payment services are provided by First Bank Nigeria, Diamond Bank and Zenith Bank PLC.
Remember, Merrybet is sanctioned by the Lagos State Lotteries Board, so you can rest assured your money will be in good hands.
How To Make Deposit
Once you have registered your account, you can deposit money by using any of the methods earlier listed.
Making your first deposit should be a straightforward task, however, if you can't do it yourself, it is advisable to visit any Merrybet shop and ask an agent to help you out.
And once the deposit is made, you'd be able to see the amount in your account so you can place your bets.

Prizes up to N80,000,000
Win Accumulator bets, Cashback and Big Prizes!
Payouts
With Merrybet, the maximum payout is 1,000,000 Naira for your winnings.
These are the ways you can to get a payout or withdrawal from your Merrybet account:
Bank Payout: if you pick this option, Merrybet will directly send your winnings to the bank account you provided during registration.
Instant Payout: with this, you can receive payment for your winnings instantly.
---
Merrybet Customer Support💬
Support via phone, e-mail, Whatsapp and Live Chat
The bookmaker has phone lines that you can use to lodge complaints of any kind as noted below:
Deposits: 081 471 96 465
Payouts: 081 663 82 000
Betslips and account: 080 590 61 372
They are also available on Whatsapp (081 867 90 287) as well as via Live Chat on their website.
For e-mail, you can contact them via support@merrybet.com
As you can see there is no shortage of availability when it comes to support on Merrybet.
---
Final Thoughts: ★★★★☆
Good customer service

Live betting

Live Stream

Cashout

Payout and deposit are easy

Domiciled in Nigeria

Intuitive website

Great mobile navigation

e-Sports available

Secure website
No sign-up bonus

Not so high odds

Website only available in English
If you are looking for a local bookmaker to pitch your tent with, Merrybet is definitely one to consider.
Its live stream of matches, numerous games, and sports to pick from, active customer support and a host of other goodies, make it ideal for a typical Nigerian.
Frequently Asked Questions