Sports betting is an enjoyable activity where you can win big. But as you know, the more you bet, the more you risk.
To help avoid those risks, there is a specific market (a betting type) where you can minimize your losses and win more. It is called Draw No Bet or DNB in short.
In this article, we will explain what Draw No Bet means and how to use it to improve your earnings.
When you bet in this market, you can either win when your team is victorious or get your funds back when the match ends in a draw. This way, you will protect your stake if there is a draw.
Not being a well-known market to most, some punters miss this opportunity to up their game with DNB. Let's dig into this.
Where To Bet With Draw No Bet?
What Is Draw No Bet?
The Draw No Bet means that if a punter backs a team, he'll win if that team is the winner, while his full stake is refunded in case of a draw. By taking away the draw option, your selection is void if the match ends in a draw.
To help you visualize this, let's use an example from the German League Bundesliga on Bet9ja.
This is the 1X2 betting market on the match Borrusia Dortmund vs. Bayern Munich. As you can see, there are three different options for you to place your bet.
For this event, the bookie believes Munich will win the match. We can see this by converting these odds into percentages. Maybe you would feel inclined to bet on Munich because of this, even though you don't win as much.
However, it's still possible it'll end in a draw. And if that happens, you'll lose the money you invested.
On the other hand, these are the Draw No Bet market odds. Here, you won't be able to bet on a draw, because no matter which team you bet, you can still get your stake back if you don't win.
Let's say you want to bet N10,000 on Dortmund. Here are the possible outcomes:
Dortmund wins – you win N22,900 ✔️
Munich wins – you lose N10,000 ❌
Draw – you get your N10,000 back ✔️
In case of a draw, you don't lose your money!
Since you have two possibilities favourable to you, the earnings are not as big as in the 1×2 market. But we've noticed that the earnings are proportional to its risks.
Our advice?
Try to analyse which are the pros and the cons of this type of bet. It's a simple exercise to see if it's worth it.
When Should You Use Draw No Bet?
The secret is applying this market when finding valuable bets.
Since there is a bigger chance you would get more out of this betting market, the odds slightly decreased. Look at how the bookie presents the odds at both markets:
Munich's odd is lower, but Dortmund's odd still has some value.
If you feel that Dortmund is playing better and has a higher probability to win than 43%, there could be a value bet there.
Imagine you would bet N10,000 in a DNB market in Dortmund's victory. That could mean a return of N22,900.
In case the match ends in a draw, you could still get your N10,000 back!
🎯 The DNB market is an opportunity to win more when betting on the least probable team to win the match.
By doing this, you take advantage of a value bet and get to drop the chances of losing from your funds.
Other tips to improve your sports betting skills is to use DNB when you:
Believe a draw is a highly probable result
Bet on accumulator and combined bets
Draw No Bet on Accumulator Bets
This is the part where we get to show you some tricks to improve your skills.
💡 Placing bets on the DNB market can be very profitable if you like Accumulator bets.
But how?
Let's simplify with an example.
Imagine you place an accumulator bet with four games, all in a 1X2 market. In this case, if you lose just one bet, it means the entire accumulator bet gets ruined.
But the result is very different if it's done in a Draw No Bet market.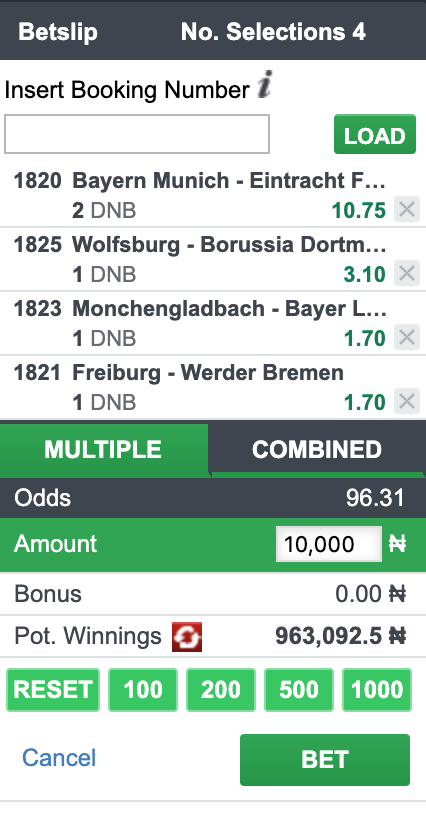 In this example, the resulting odd is 96.31. It reaches this amount because the odds from each event were multiplied.
But remember: this is a high-risk bet! Which means it also provides a big prize if you win.
You should only do this when you are confident about your bets.
If your hints were right, then you would get N963,092.5!
Sure, it's rare to accomplish a full win at accumulator bets. But with Draw No Bet this all changes:
✔️ 3 wins and 1 draw: you win as if it was triple bet
✔️ 2 wins and 2 draws: you win as if it was a double bet
✔️ 1 win and 2 draws: you win as if it was a simple bet
❌ 1 loss: you lose all bets
By choosing this market, you can keep the high odds of your multiple bet because there is a lower chance of losing everything.
Double Chance
Punters who like betting on tennis and basketball matches know how it's better to be able to bet simply in two outcomes: winner or loser. In these sports, you can only choose who wins because these games rarely end in a draw.
The Draw No Bet market is a way to provide this benefit to those who prefer good old football. The best part is that you have no losses in case of a draw.
There are some other markets that want to replicate this advantage for punters.
On the Double Chance market, you still have 3 options available (draw included). But what makes it special is that each option covers 2 results at the same time.

Usually you can bet on:
Home team wins OR draw
Home team wins OR visitor team wins
Visitor team wins OR draw
When you take time to explore the different markets available, you get more opportunities to increase your earnings.
Conclusion
To be the best punter, it is crucial to win big and be able to manage your bankroll. With the Draw No Bet market, you can decrease the risk of losing.
Because of how simple and easy it is, the Draw No Bet means it is ideal for both beginners and experts.
There are ways to improve your winnings by using it in accumulator bets. But be careful! You still have to keep in mind how risky these bets are.
💰 Otherwise, the DNB market is a lifesaver if you are a pro at accumulator bets.
As we said before, the only downside are the slightly lower odds applied at the DNB marker when we compare it to the 1X2 market.
It's fair since the probability of earning is higher when choosing the DNB market. The advantages are:
Makes betting more simple
Reduces the risk of losing money
Adds more possible wins at multiple bets
These are methods you can incorporate in your sports betting skills, but it is really up to you when to use them. It's always important to keep learning new techniques so you have all the means to become a betting master.