After we explained what odds are and how they work, it's time to improve your betting experience!
If you want to be a sports betting legend, there are some simple concepts that can help you achieve that.
We know you want to place bets that guarantee big winnings. The key to successful betting is in finding value betting situations. In order to do that, we are going to teach you what are value bets and how you can find them.
By knowing this, you will be able to win over the bookies' profit margin and make sure you will earn more.
Maybe you've heard some professional players say things like:
Betting on the Manchester City match has value
There is no value in betting on AC Milan in this match
After reading this article, you will be able to use your own judgment in each soccer match and predict which bets are valuable.
Betting Sites with the Best Odds
What are Value Bets?
First of all, you have to understand what an odd is. to know what they are is essential to find a value bet!
What is an odd?
Odds are calculated by the bookmaker and they present the probability of something happening.
Regarding bookies, they correspond to a certain result in a sports' match.
📌Read more: "What Are Odds? Where to Find the Best Ones?"
You may want to take note of this because it will come in handy in the future.
But is it really that important? Is it the big key to unlock the secrets of sports betting?
Well, yes!
Being able to find value bets is a certain way to find profitable bets!

A valuable betting situation is when a betting site presents an odd that corresponds to a smaller probability than what is the real probability of that event actually occurring.
Odds for Flipping a Coin
It's normal to feel a bit confused by this definition.
But don't worry!
Let's simplify!
For this example, imagine you are flipping a coin in the air and you want to bet if it will land on heads or tails.
To better illustrate this example, check this table detailing every situation. Here are the real probabilities for each result to happen:
| | Head | Tails |
| --- | --- | --- |
| Fair Odd | 2.00 | 2.00 |
| Probability | 50% | 50% |
If this bet was in a sportsbook, it would appear like this:
| | Heads | Tails |
| --- | --- | --- |
| Presented Odds | 2.10 | 1.9 |
| Probability | 47,6% | 52,6% |
In this example, you can see that:
The real probability of Heads win is 50%, which represents a fair odd of 2.00
The bookie is offering an odd of 2.10 for Heads win – which is a probability of 47,6%
This is where bookies can surprise us!
If the bookmaker presents a probability for Heads to win of 47,6% but we know the real probability is 50% – IT IS A VALUE BET!
As you know, both events have a 50% probability to win. It is really a 50/50 situation.
When you flip a coin, you have a 50% probability to guess correctly which side will fall in your hand. In this case, your profit is bigger if you bet on "Heads".
Now that this concept became simpler and easier to remember, you just need to put it to use in a real sports betting match. Professional players can spot these situations from afar, and you will too with practice and experience.
And we are going to help in every step of the way!
How to calculate the value
A helpful tool to check if a bet is valuable is to calculate its value.
As we said before, this concept is based on mathematics. But it doesn't mean it is difficult! It is actually very easy!
For all bets, you just need to do this:
Value = (Presented Odd x Real Probability) – 100%
Let's use the example that we saw moments ago.
For the Coin Flip, the value will be:
Value = (2.10 x 50%) – 100%

Value = 105 – 100%

Value = 5%
Ok, ok. Now, what does this mean?
With an odd of 2.10 for a Heads win, the bookie offers 5% more than what it should. This is a great opportunity to win more!
Your success depends on your intuition to guess the real odd for each event.
In other words, if you think the real probability of something happening is different than the one presented by the sportsbook, check if there is value in that bet or not.
Of course, this intuition will get better with time and patience. The more you bet, the more you can spot when it happens!
Sometimes, bookies make mistakes. This is when you come into the picture! An experienced player will be able to take advantage of these situations and win more with them!
📌 Tip: Specialize in one league or division
This is a special tip for you!
If you specialize in a specific market, leagues or sports, it will easier for you to spot a value bet!
If you are an expert in a certain market or sport, you will be one step ahead of the sportsbook.
Since you have an advantage, you will easily identify value bets!
Practical Sports Betting Examples
Let's be real. Probably, you won't bet on coin flipping near in the future…
But we can easily adapt this information to use it in sports betting.
In this example from the bookie 22Bet, let's check this Nations League game, England vs. Iceland.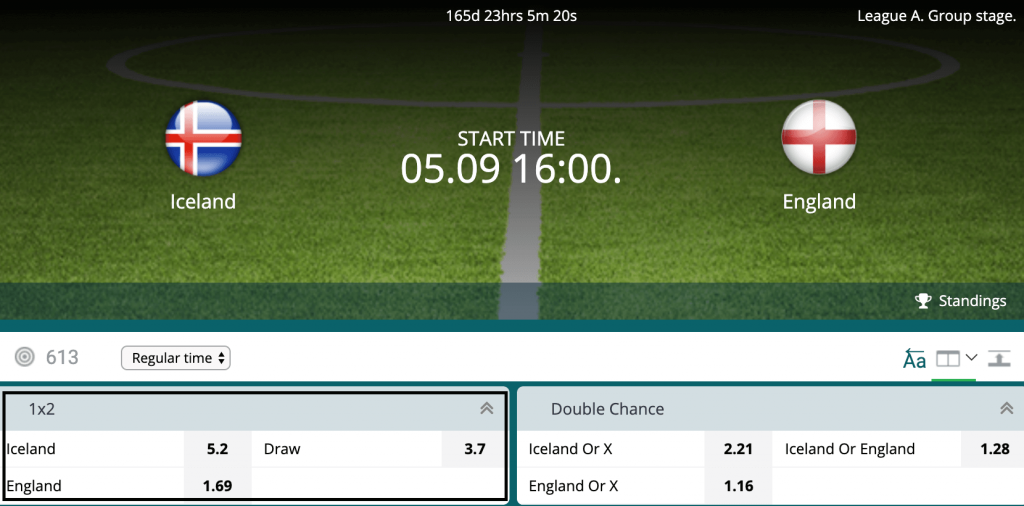 Remember, it is only an example. In each case, everything will depend on the team's statistics and playability. You just have to apply your knowledge according to the recent events and matches.
But let's go back to the England vs. Iceland match. For these betting options you have:
Iceland win @ 5.2
Draw @ 3.7
England win @ 1.69
Let's suppose you are watching the Icelandic team lately, and you remember how far they've come in the 2018 World Cup.
They even qualified for the first time during that championship and you think they are playing better than what the bookie is showing.
By converting the odds into percentages, you have:
Iceland win @ 19,23%
Draw @ 27,02%
England win @ 59,17%
You have been checking the Iceland players and you believe they are a solid team. Not better than England, but they still have a better chance than 19,23%.
You even believe they have, at least, a 30% probability to win.
If you find a situation like this, it is a value bet for Iceland!
There is another aspect to look out for.
Sometimes, to bet in a big match like this is not the smartest move. Usually, the bookies are always on top of these events and they pay attention to the odds they apply.
This won't happen as much in a match from a 2ª division league. Most of the time, these odds are applied automatically and unsupervised.
The more you know about small leagues, the better chance you have to find value bets!
Conclusion
Now that you know what a value bet is, you'll be a better player and be able to win more in each bet you place.
It is important to be ahead of the bookie to place successful bets without loss of profit.
But how can you find these situations?
Some people like to approach it using maths. Others will prefer to watch the news, evaluate statistics, checking the players' physical condition, and so on.
You will find what suits you. What matters is to keep in mind you will have to practice.
But with practice comer perfection and soon you will see these value bets in a blink of an eye!
You can specialize in these type of bets:
Corners
Tennis
Cards
Over/Under
Our advice is for you to keep looking for more and more information and check some matches' results. This way, you'll see when to bet without losing money!