If you are looking for a new bookmaker to start placing your bets online, you've found the right place! With sportsbooks shifting to digital platforms, it's even easier to bet anytime anywhere on your mobile.
Established by parent company Hammerbet Ltd in 2017, HamaBet is one of the newer bookies in town and it is captivating Nigerian players more and more each day.
The bookmaker offers plenty of betting markets on a huge variety of sports. They cover both pre-match and in-play events, so you have more opportunities to win big!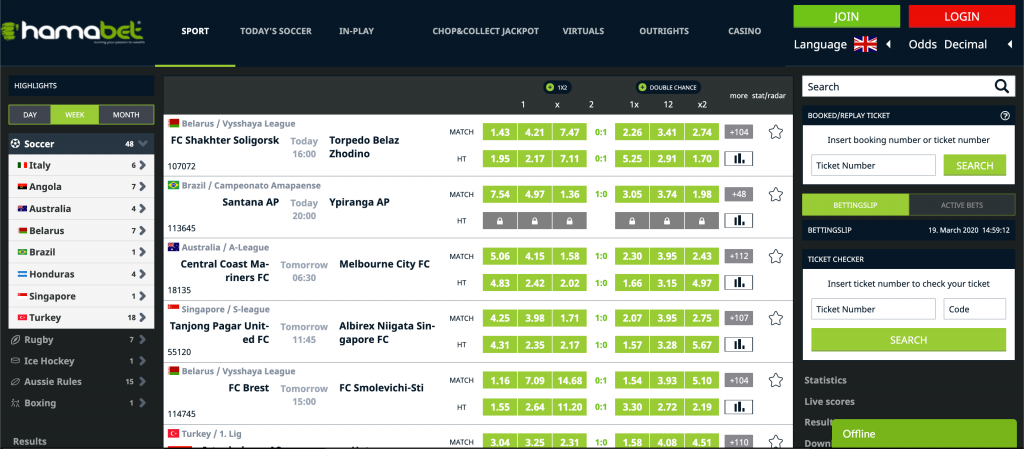 Their website is user-friendly and easy-to-use, with a simple layout that makes the betting experience very smooth. As you can see in the image above, on HamaBet's homepage you will easily find the different sports they feature on the left. In the middle, they show their available matches and betting options.
On the right, there is an amazing search tool. You can search by the team's name, country, competition or league and they will show all the events they cover with the odds attached. You can even search for "friendly" and all the friendly matches will appear from current to upcoming live games. It is really this simple to find your favorite matches!
It is also easy to access all the Hamabet bonuses available to users, such as accumulator bonuses and cut one and cut two refunds. They have great promotions and jackpots for you to win even more!
If you are a user already, you can access your active bets on the homepage.
If you are not, don't worry!
In this article, we will explain everything about HamaBet, how to sign up, how to play and all the information to have the best betting experience on this website!
Who owns HamaBet Nigeria?
Hamabet Nigeria is an online sportsbook platform owned by Hammerbet Ltd, with its registered office is at 41, Bale street Idado, Lekki Lagos, Nigeria headquartered in Lagos and licensed by the National Lottery Regulatory Commission of Abuja.
The company was established in 2017 and is licensed by the National Lottery Regulatory Commission of Abuja. This proves their commitment to safety and security, offering their costumers a fair gaming environment.
HamaBet Bonus and Promotions ✅
100% Welcome Bonus up to N25,000

Jackpot

Accumulation Bonus
100% Welcome Bonus – Win up up N25,000 💵
Being a bookie with a lot of bonuses and promotions, HamaBet offers one of the most desired features: a 100% Welcome Bonus.
This bonus means that when you register, they will automatically double your first deposit. From that on, you will be able to use this extra money to place more bets and win more!
Double yours first deposit with this 100% welcome bonus and win up to N25,000.
You just need to open an account at Hamabet, make a first deposit and you will receive a 100% matched bonus up to N25,000. This means that if you deposit N25,000, you will win N25,000 and have a total of N50,000 for yourself!
This bonus is only available for new customers. If this is the case, you just need to follow these simple instructions and the bonus is yours:
Be a new customer
The minimum deposit has to be N50
When you opt to bet using the free cash, you must choose an event with odds of at least 1.6
You can win real money using the bonus cash. However, you can only redeem it after meeting the wagering requirement of 6x (bonus+deposit)
The bonus can only be redeemed once
Acca Bonus
With the accumulator bonus you can win a 200% bonus in addition to you original payout.

Among the favorite bonuses for Nigerians, the accumulator bonus is also available on HamaBet.
This bonus allows you to place a pre-match/in-play accumulator bet of 5 or more selections at minimum odds of 1.6 in order to win. If your bet wins, then the sportsbook will give you a 200% bonus in addition to your original payout.
The bonus amount is dependent on the total number of sporting events included in the selection. The best part is that the bonus money is paid in cash and instantly credited to your account.
Cut-one and Cut-two Promotions
If you think the accumulator bets can be hard sometimes, the cut-one and cut-two promotions are meant to compensate you when either one or two selections fail to pass it.
They are like insurance policies that ensure you get a return against a bad run of luck.
The amount you'll receive for each of the promotions is set at a maximum of N30,000.
For the cut-one promo, you need to have at least 10 selections in your accumulator bet. If one of the ten selections fails you, you get a 2.5% rebate.
While in the cut-two promotion, you need to have at least 15 selections in your accumulator bet. For this, two selections that fail to pass will warrant you the 2.5% rebate up to N30,000.
HamaBet Jackpots
As we said before, this bookie is a great place if you love promotions and jackpots. HamaBet Nigeria has 3 jackpots available.
The first one is called the Hamabet Super Jackpot and it consists of 6 matches. You need to correctly predict the score of each match. It costs just N200 to enter and the Jackpot Bonus is N1,000,000!
They then have 2 Hamabet Chop&Collect Jackpots, which have 10 games each. You need to correctly predict the outcome of the 10 games in order to win the jackpot bonus.
How to play on HamaBet Jackpots?
These jackpots are very easy to play. Here is the step by step to bet and win big with just some clicks:
1. Make your selection– On the Hamabet Super 10 Jackpot competition entry page, make your prediction for each one of the listed matches (Home win, Draw, Away win). By clicking on the "Lucky Dip" button, a random selection will be chosen automatically for you.
2. Check and place your bet– Check all of your selections and then click on the "Place Bet" button. As once submitted the bets cannot be canceled, amended or refunded. You may place your bet up until the first of the 10 matches kick-off.
3. Check the results– You will see all the matches' results and prizes will be published in the "Previous Results" section on the Pool Betting option by noon on Monday or Tuesday, depending on whether the last match was played on Sunday or Monday.
Social Promotions
These are the easiest bonuses to win you will ever find!
You just need to follow Hamabet Online Sportsbook and the Hamabet online casino online on their social media platforms and you can win a surprise bonus.
The prizes can be free bet credits, cash prizes, goodies among other things.
There is also a transfer to friend feature available. It is not really a bonus made by the bookie, but a friend giving you money is always a treat.
The Hama 'am moni Bonus allows you to transfer funds from your account to your friend's account.
Simply send, from your registered phone number, your username, your friend's username and amount to be transferred. Send this to their customer care line – 0908 602 2222.
The minimum transfer is N50 and the maximum amount is N2,000 every day.
HamaBet Mobile 📲
Mobile Optimized Website

Lite Version

No Mobile App
As we mentioned before, Hamabet has a great website that is totally optimized for your mobile phone. It works perfectly in any mobile, allowing you to place your bets on the go!
You can access the website on your computer, mobile or tablet – just choose what works best for you!
The mobile experience is totally stress-free since everything is easy to find and the bets are simple to place.
Despite not having an app, The mobile version is has in-play betting markets, cashout feature and daily odds boosts.

HamaBet also has a casino feature available. When you access it through your phone, the games are all instant-play. Whit this, you don't need to free memory space on your mobile phone or make room for an app.
You can do everything straight from the website on your phone.
But there is another great pro for mobile users! Just keep reading!
How To Acess HamaBet Lite Version
You can either have a new or old mobile phone because HamaBet website works on both!
There is a Lite version available. You just need to access through www.hamabet.com/mobile-lite/ and the website will load a small amount of data and information. This way you can place bets with a slow internet connection or an old mobile phone!
How to Register?
We are sure you are convinced this is a great bookie!
Now that you know how generous all the promotions and bonuses at HamaBet are and how easy it is to use it on your mobile phone, it is time to learn how to register.
On the homepage, you will see a green button that reads "Join". Just click on it and this form below will appear:

The registration process can be done in just some minutes. It will be super fast!
All you have to do is:
Fill in the form with a valid e-mail and choose a username and password. You can press the button that says "Connect with Facebook" for an instant registration with your Facebook account
Write down your first name, last name, and date of birth
Once you see the image below, your registration is complete

After these steps, you will start placing bets and win big prizes! But what if you are now starting your journey in sports betting?
No problem! We are here for you!
Just keep reading this article.

Win up to N25,000
Get a 100% Welcome Bonus up to N25,000 and start placing your bets!
How to Play 📝
We told you! We are here to help you in every step of the way for you to become a sports betting legend!
With this tutorial, it doesn't matter if you placed bets before or not. If you are starting now, you will see how easy it is and be ready to make big winnings!
1. Choose the Market
First of all, you have to choose a market to bet on. But what does this mean?
Sports betting markets are the different ways you can bet on a match. There are dozens to choose from. But for now let's go with the easier: 1×2! Basically, the three outcomes of a match between two teams are represented by either 1, 2, or X.
This means 1 is for a home win, 2 for an away win, and X for the draw.
2. Choose a Game
Knowing you can bet in a huge variety of sports, we will use in this example Nigeria's favorite: football! The king of sports has a huge range of leagues and championships covered at HamaBet, so let's just choose a match.
For this example, we chose the Italian Series A game AC Milan vs. AS Roma:

Here are your betting options:
AC Milan win @ 2.37
Draw @ 3.63
AS Roma win @ 3.00
So far so good. But what are these numbers?
They represent the odds for each outcome. We are sure you have heard this name before.
If you bet N10,000 on a draw for this game, you win back N36,300. The math is simple: N10,000 x 3.63 = N36,300
Imagine you place a bet of N10,000 on a Milan victory. With this bet, you would win N23,700!
We said it was simple! And it shows!
There is only one more thing to keep in mind.
If you compare the winnings, you can see the prize for a Milan victory is smaller. This is because the bookie considers there is a greater chance of Milan winning over Roma.
So, if you would bet on a victory for Roma you would win more.
This is where you have to remember it is better to win and be sure the victory will happen! So the safest bet would be in Milan.
Now that you know the basics, you can start winning big prizes on HamaBet!
Sports Betting HamaBet ⚽️🏀
Huge Variety of Sports

Cashout Available

Statistics Available
HamaBet offers a really big variety of betting markets. And since we know they are a very respected sportsbook in Nigeria, it is not a surprise!
The bookie has a huge range of sports available. As expected, they offer multiple betting options for football. The bookmaker features small and big championships, from top leagues such as the Premier League and La Liga, to the Nigerian Professional League and Nigerian Challenge Cup.
There is also a broad selection of events on each match. For example, a Premier League match features at least 122 events that you can bet on.
If you want to be updated daily about the football games happening, the main menu has a "Today's soccer" option where you can keep up with every match each day.
If football is not your favorite sport, there's plenty more to choose from. This includes:
Basketball
Tennis
American Football
Rugby
Cricket
Ice Hockey
Handball
Boxing
Bowls
Baseball
Volleyball
Motorsport
Futsal
Another interesting betting option on Hamabet is its football jackpots such as Hamabet Super Jackpot and Chop&Collect Jackpot. As we explained before in the bonus section, you can win really big prizes on these features. For example, on Chop&Collect Jackpot, if you predict the match result (home win, draw, or away win) of 10 matches, you will win N1,000,000 with a stake of N200.
Cashout
At Hamabet, you can end a bet at any time and cash out your winnings before risking losing money.
Another great advantage in betting at Hamabet is their cashout option. They allow this feature on both pre-match and live bets. This gives you more control over your winnings since you can cash out before risking losing money.
For example, imagine you placed a bet and during the game, the opposite team is winning and having more control over the game. It would be smart to simply stop your bet from being a lost bet.
By having the opportunity to end a bet at any time, including after the beginning of an event, customers can minimize their potential losses and maximize their potential gains on their bets.
But be careful! This feature cannot be used with any other promotions offered by the Hamabet site.
Statistics
With the Statistics Feature, you'll find the latest news on all sports and teams, allowing you to judge betting odds more accurately.
By taking a look at this page, it will help you research better bet selections and you can also use it to closely follow the match as it progresses.
When used appropriately with pre-match stats, these statistics can help you make accurate predictions.
Live Betting HamaBet 🖥
Live Betting Available

Live Virtual Games

No Live Stream
One of the best parts, when you are betting on sports, is to watch what really happen on the matches you placed a bet on. It is a thrill to see if your predictions were right or not!
For more excitement, HamaBet has a live betting/in-play betting feature. This feature allows you to bet on sports events even after they have begun, so you can place a bet on games that are happening when you visit the website.
You can find it on the second button on the homepage and keep track of all the sporting events that are currently running.
The odds in a In-Play bet can increase and decrease over the course of the match.
The odds associated with In-Play betting are constantly changing which is why this form of betting has become so popular amongst sports fans.
This comes in handy with the Cashout option, since you can see the course of the match while it happens and be a better judge if you want to take away your bet.
Unfortunately, there's no live streaming feature available.
Live Virtual Games
With no Live stream available, we can see HamaBet tried to entertain its customers with a similar feature.
They provide a selection of virtual games that includes sports such as football, greyhounds, racing, and speedway.

To access this feature you just need to click on "Virtuals" on the main top menu and choose the sport you would like to bet on the left.
After you chose one, just wait a few minutes to enter. The matches are very quick, as the total time equals to 2 minutes. You can choose which team wins and if it will be draw on selected betting markets.
Payment Methods 💸
e-Wallets Available

Payment USSD

No Fees

Limited Options
There are not a lot of payment methods available at HamaBet, but the payout is within 24 hours and has a flexible virtual betting system for both online and shop operators. The options are:
Quickteller
PayStack
WebPay
Mobile Phone
Bank Transfer (First Bank, Zenith Bank, Fidelity Bank and GTB)
For withdrawals, hit the Withdrawal tab and choose Interswitch Quickteller Payout. You can also transfer funds via the Webcashier service.
The minimum amount to deposit is N50, while there is no maximum deposit.
As for withdrawals, the minimum is N20 and the maximum is N10,000,000.
Customer Support 📞
Live Chat Available

Not Available 24/7
With good customer support, it is only a shame their Live Chat option is not available 24 hours every day. But you can still contact HamaBet for queries through:
Live Chat: Click on the 'We are Here!' button the bottom left side of the screen to use this channel
Contact via Email: support@hamabet.com
Call via Telephone: 0908 602 2222; 0908 502 2222; 0903 000 1073; 0903 000 1083
Social Media: Tweet tagging @hama_bet or go to HamaBet's Facebook page and write a private message with your questions
Final Thought: ★★★★☆
Fast In-Play Betting Markets

Good Customer Support

Fast Payments

Live Betting

Live Virtual Games

Cash Out Feature

Statistics Available
Limited Number of Banking Options

No Live Stream

No Credit Card Payment Option
With a remarkable football offering, Hamabet has plenty to offer for Nigerian punters interested in the king of sports and other sporting events.
The sportsbook offers a lucrative and easy to withdraw bonus, responsive mobile platform, fast and effective cashout and in-play betting features. Their live betting and statistics features are also a dream combo come true if you want the thrill to place bets while the games happen.
Their website is quite easy to use even for newbies. Deposits and withdrawals are also available with various options for users.
Overall, HamaBet will give you an amazing betting experience and leaving you wanting to bet more and more.
Frequently Asked Questions
📝 How do I register in HamaBet?
It is really simple to start your own account! First, open the website and click on Join on the top right corner. Then, fill in the form with your valid e-mail, username and password. After that, they will ask for basic personal details and your registration is complete! You can also connect with your Facebook account so it is even faster!
✅ Is HamaBet safe?
HamaBet is licensed by the National Lottery Regulatory Commission of Abuja. This proves their commitment to safety and security, offering their costumers a fair gaming environment.
💸 What is the minimum amount you can withdrawal
You can withdraw a minimum of N20 and a maximum of N10,000,000.
🖥 Does Hamabet have Live Stream?
Unfortunately, HamaBet does no have Live Stream. But is has a great live in-play betting feature, live virtual games and cashout available!